Simple Church - Missionally Effective through Simplicity
Reducing the complexity of our churches can result in an intensified missional effectiveness. It is not only about modified structures or activities. It is mainly about a clarified community focus when it comes to considering the Great Commission. Does "simple church" mean a downsized church life? Does it mean a lacunary theology? Does it mean a leadershipless organization? Let's raise the curtain!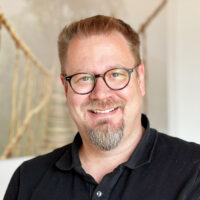 Christian Kuhn is 50 years old and has been married for 25 years. He is the father of two 2 children. Christian is director of the Swiss Evangelical Alliance, French-speaking part. He is also co-founder and coordinator for more than 15 years of the discipleship and church-planting movement called "@home" in Switzerland. He is a pastor, mentor, speaker, trainer, entrepreneur, coach, and consultant in organizations. An engineer by training, he enjoys pioneering, innovative or bridge-building contexts. Christian is a man with a passion for Jesus, the kingdom of God and the Church in all its forms. Collegial leadership and teamwork are among the subjects he often teaches in schools and training centres.