Collaboration Between Diaspora and European Churches
The diaspora concept is not new within the social and political situation, but it is novel for a critical analysis of the global mission of the evangelical movement. For this reason, Samuel Cueva will share his thinking on mission theology of reciprocal collaboration to strengthen the process of a global diaspora mission for the benefit of 21st-century mission. Samuel believes that reciprocal collaboration will help the European churches work together with any diaspora mission, and in the formation of effective networking for the benefit of God's kingdom.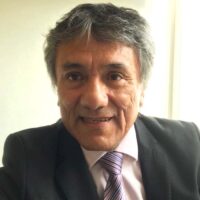 Samuel Cueva holds a PhD in Theology from the University of Wales, and a MA in Mission Studies from The University of Birmingham. He is a missiologist, writer, and mission consultant promoting two-way mission bridges to every continent for the fulfilment of God's mission, while developing a mission theology of reciprocal collaboration. He is currently a member of the Latin American Theological Fraternity, and a council member of the Evangelical Alliance (UK); board member of One People Commission (Evangelical Alliance UK); board member of the Centre for Missionaries from the Majority World (African initiative), and board member of the steering committee of the Equip7: Learning Community (Asian initiative). He is a Visiting Lecturer in Missiology at the University of Roehampton (UK) and his most recent publication is Mission Partnership in Creative Tension. He currently lives in London.