Ideals, Conspiracies, and Realities: Christian Responses to the EU Project
The role, or absence thereof, of Evangelicals in the European integration project has been shaped by various historical realities and eschatological interpretations. How biblically rooted are our evangelical responses, and how do they compare with Catholic and mainstream Protestant responses? Jeff argues they reveal the need of a European evangelical, missional, public theology.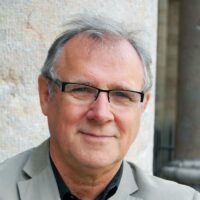 Originally from New Zealand, Jeff lives with his Dutch wife Romkje in the heart of Amsterdam where he leads the Schuman Centre for European Studies promoting biblical understanding of Europe's past, present and future. He writes, teaches, speaks, zooms, leads heritage tours, hosts online Schuman Talks and facilitates Summer Schools in European Studies. He has written several books, was YWAM Europe director for 20 years, and coordinator for Hope for Europe, roles that took him to almost every European nation. He tries to think of fun things to do with his eight grandchildren and enjoys boating on Holland's rivers, canals, and lakes.