Reaching University Students
The University campus is one of the most strategic and fruitful mission fields in Europe today. We will be learning together from some of the best examples from around Europe of how students are reaching students with the Gospel.
To download the
Mission Week Planning Guide please click here.
If you would like more information or be kept up to date with news and resources from student missions around Europe,
please visit the Feuer website.
To sign up for their mailing list, please request that by sending a message
here.
You can also visit Michael Ots' personal website
here
.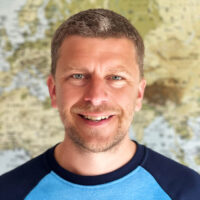 Michael Ots is an evangelist working predominantly with university student groups around Europe. He has spoken at over 100 mission weeks in more than 20 countries. He is also the author of three evangelistic books, the first of which, "What kind of God?", has been translated into several European languages. He is the field director of FEUER, a network of evangelists committed to the public proclamation of the Gospel in the universities of Europe. He is also part of the IFES Europe extended regional team. He is based in England and married to Rebecca.